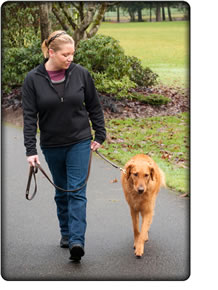 "Any Breed Training" offers in-home training sessions giving the owner and pet the personal attention they deserve. Dog Obedience Training is available in Seattle and the Bellevue - Eastside areas.
My on-site, positive reinforcement approach will eliminate the frustration that an ill behaved dog can cause.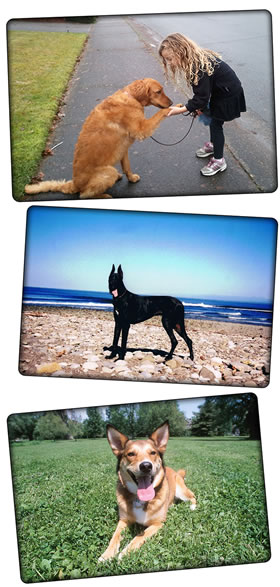 Services
Beginning & Advanced Dog Obedience Training

Dog Behavior Problem Solving Education

- Chewing, Barking, Digging, Bolting, Jumping up, Destruction, etc.

Puppy Training & Education -

How to Pick the Right Puppy for You, Puppy Training starting at 8 Weeks Old, Housebreaking, Socialization

Children & Dog Interactions -

Understanding the Family Dog Pack, Dog Herding Behavior, Dog Tolerance with Children

Dog Aggression Issues -

Biting, Dog Dominance, Dog Fighting Issues

Dog Desensitization Training -

Dealing With Your Dog's Fears of Certain: People, Items or Sounds
How will you know
it is time to start
training your dog?
If any of the behaviors listed below are a part of your life then it is time to start working with your dog to end the stress that your dog's issues are causing for you, and for your dog. I will work out a positive behavior-based training program that is just right for you, your dog, and your lifestyle.
Does your dog:
Bark
Destroy things
Potty in the house
Dig in the yard
Jump up
Run away
Not listen to you
Not come when called
Pull on the leash
Act nervous
Annoy people
Scare people
Fight
Not get along with other dogs
Your dog's behavior
causes you to:
Not have company over
Not enjoy walking your dog
Never let your dog off the leash
Avoid social situations
Separate your dog and guests
Use a crate when you are away
Lose your temper
Think of giving your dog away
Worry about neighbor's complaints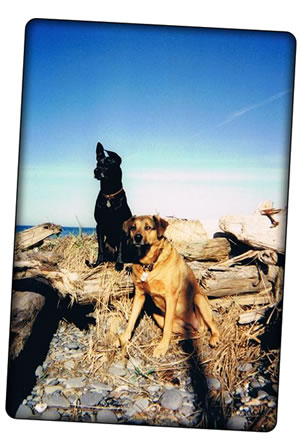 Meet my new training dog!
Meet Voodoo! He is my new working partner! After my last dog of four passed away at the age of 16, it was time to look for a new family friend and working companion. I adopted Voodoo in the spring of 2014. He was four years old at the time. He is a Labrador, Rottweiler, Newfoundland mix and weighs in at 120 pounds.
Voodoo was a farm dog that lived with many different types of animals: goats, llamas, chickens, turkeys, cats and other dogs. He is non-reactive with all animals so he makes a great training partner! He is great with children and other humans as well. He does have a natural instinct to guard me against suspicious strangers, a trait I am very happy with as well. He has been a wonderful addition to my world and my business. He brings a smile to my face every day!